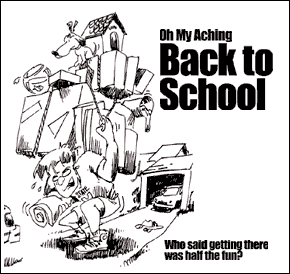 Oh Lawd!! I can just feel ma belly rumbling and tumbling at the thought alone. I hafta change rhythm again... get into the school vibe, get my mind back in class-and-study mode. After
this
summer, and four months of non-stop working... ah not sure ah able.
I suddenly feel too old for all this, (I know, a whopping ripe old 20). Ah feel sooo tired at just the thought... oh lawd! School again.
So I made ma trek to the University today, and the weirdest thing happened when I reached the gate to go on campus. It's like some magnetic force (really more like a whole lotta fear and apprehension) was stopping me from entering. I was frozen. The people passing me musta thought I was crazy: just standing there looking on without budging, this sorry look on my face. I started to walk forward, then stopped, turned back, then turned round, started towards campus, then stopped again.
I had to think hard about it. Stepping back on campus would mean reimmersing myself into an atmosphere that had almost defeated me.
Almost
. The bouts of depression and panic that university life has taken me through... Lawd, ah not sure ah able. One more year of crazy scheduling and sitting through semi-interesting lectures, burning the midnight oil... alla that good stuff. One final year. One last time. I can finish my double major degree (that I really want), or punk out with a major/minor (which wouldn't be too too bad).
I not sure if I want to go through alla that again...
So that leads me to the whole topic of
New School Year's Resolutions
.
The start of the school year is always the perfect time to get yourself back together and make some new goals, you know, recommit and refocus. My mind now running helter skelter all over the place... thoughts of text books and lecture notes and class-times and part-time jobs already running through my head... so much to think of, so much to do...
No backing out though. I'm in this for the long haul ("long haul" being exactly 1 year/the equivalent of exactly 2 semesters, and
not a second more
!). Life should be very interesting this year, considering all the new circumstances under which I will be toiling. I know it will all work out (I have a somewhat naive but unshakeable belief that the universe will always right itself and that God loves me specially from everybody else, lol - just ask my friends). So here I am again. Back in Uni. My last year.
Can I do it?? Yes I can. I have to. So I will.
PS
Man, you should see the newbies all decked out in they Sunday best for the first days of class... Lawd you want to see them with they fresh faces and they dandy ribbons... lol. Can't wait to see those same faces halfway through first semester, round midsemesters time when all they papers due and they have a ton of exams too. That should be interesting, lol.